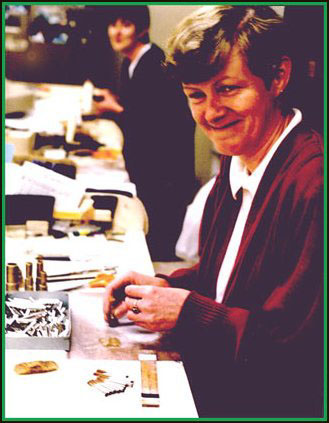 <!-was W280 H280-->


 <!-was 6F006F-->




THE  FACTORY
~~~~~~~~~~~~~~~~~~~~~~~~~~~~~~~~~~~

This is Delia-
Delia is the most experienced craftsman in the factory with THIRTY FIVE YEARS of brushmaking experience. And, of course, she makes all of our fine brushes.

The factory is located in Castlebar, County Mayo, Ireland with two very experienced partners and fifteen dedicated workers. They make brushes for Great Britain and The European Community, and Kalish Finest Brushes (that's us).

We design our brushes here in New Jersey and FAX the designs to the factory in Ireland. We are the sole agent of these fine brushes in the U.S. and Canada, and the brushes are sold under our name.

Only the finest quality hair is used in our brushes. The factory receives samples of top-quality hair from a British hair dealer with the finest reputation in Europe (some unscrupulous hair dealers specialize in low-quality hair of dubious origin). If they find that a sample is extra-fine, they purchase a large quantity to keep on hand.

The factory is run on a Fine-Craftsmanship and Top-Quality basis. Everything is done to produce the very best brush in the world !